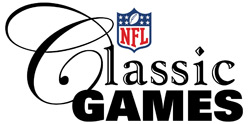 Super Bowl XLIII is a lock for classic game status.
Is it better than last year's big game? Probably not. It's hard to beat the ultimate David and Goliath game between the perfect Patriots and underdog Giants. That Super Bowl was close throughout and it ended up being one of the biggest upsets ever in professional sports. Still, the Steelers and Cardinals game will go down as one of the greatest Super Bowls ever.
Here are 7 reasons why.
7. Arizona's Three Goal Line Stands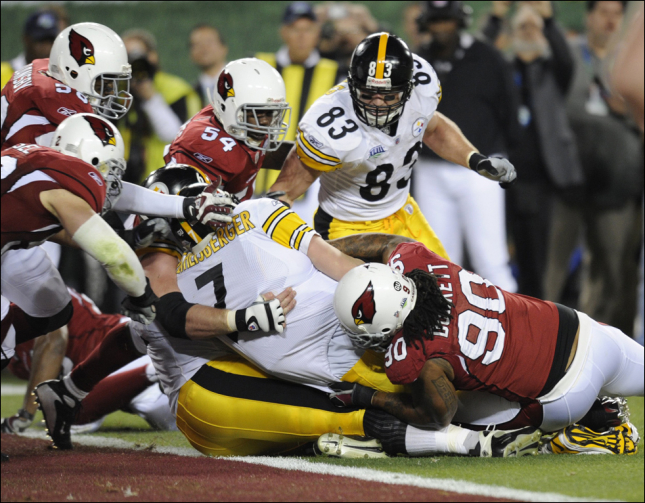 Photo by Timothy A. Clary/AFP/Getty Images
via sacbee.com
Who would've thought Arizona would have three goal line stands? Granted, Pittsburgh's short yardage running game is subpar but Arizona's run defense was mediocre in the regular season.
In the first quarter, the Cardinals stopped the Steelers on the one yard line including the controversial no gain run by Ben Roethlisberger. At first, it was ruled a touchdown, but Ken Whisenhunt successfully challenged and the play was reversed.
The other two stands happened in the same drive. The Steelers had 1st and goal on the Arizona five yard line in the third quarter and the Cardinals stopped them. However, veteran Adrian Wilson made a non-veteran play by running into the holder on the field goal try. This gave the Steelers another first down on the Arizona four yard line, but the Cardinals stopped them again.
Initially, Arizona's goal line stands will not be noticed. But savvy football fans will realize how important these sequences were to keep Arizona in the game.
6. Controversial Officiating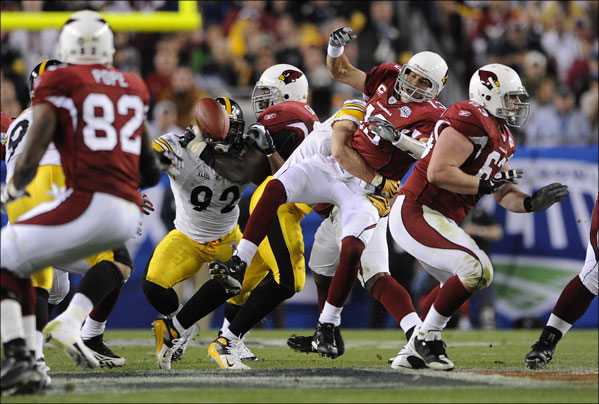 Photo by G. Newman Lowrance/NFL.com
via nfl.com
I already talked about Roethlisberger's near touchdown. There were other close plays that will be debated by sports fans for years to come.
On his interception return, did James Harrison really cross the end zone before being tackled by Larry Fitzgerald and Steve Breaston? If he didn't score, then Arizona dodges a bullet and saves seven points since time ran out at the end of that play.
What about Kurt Warner's incompletion in the third quarter? It was initially ruled a fumble but Arizona had another successful challenge.
The roughing the passer penalty against Karlos Dansby seemed to be a no-call at the least. And many people think Roethlisberger should've been called for intentional grounding instead.
What about the holding penalty in the end zone? Arizona scored with a safety on that play.
On the very last play, you could argue that Warner did not fumble but instead threw an incompletion. Coupled with Pittsburgh's penalty, Arizona would've had the ball at the Pittsburgh 29 yard line. Sure, the odds of them scoring a touchdown on the final play are low, but you never know. It's not improbable for Fitzgerald to catch a jump ball in that situation.
5. Two Great QB Performances from Possible Hall of Famers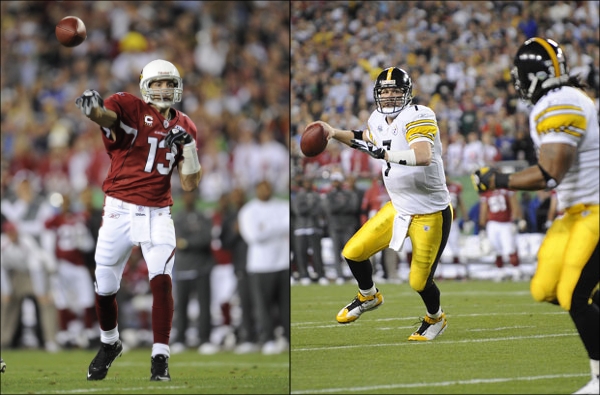 Photos by G. Newman Lowrance/NFL.com
via nfl.com (pic #1 and pic #2)
Neither team could run, so they had to go with the pass. This could've been an ugly game if the quarterbacks threw too many incompletions but both Warner and Roethlisberger came to play.
Roethlisberger had 93.2 QB rating and atoned for his 9/21 two interception game in Super Bowl XL. Warner had an amazing 112.3 rating.
They were accurate. Roethlisberger completed 70% of his passes. Warner finished with a 72% completion rate, which included an impressive stretch of 10 completions in a row in the 4th quarter.
They played well with different styles. Many of Roethlisberger's best highlights were of him scrambling around to buy time and avoid the sack and then finding an open receiver to keep drives alive. There were at least two plays where the Cardinals almost had a sack, but Roethlisberger was able to escape and make a completion. In contrast, Warner was calm in the pocket and used his quick release to make big plays. He hit 2 different receivers for over 40 yards.
Warner also threw for the second most yards in Super Bowl history (377 yards). He now owns the top three passing games in the Super Bowl.
4. The Longest Play in Super Bowl History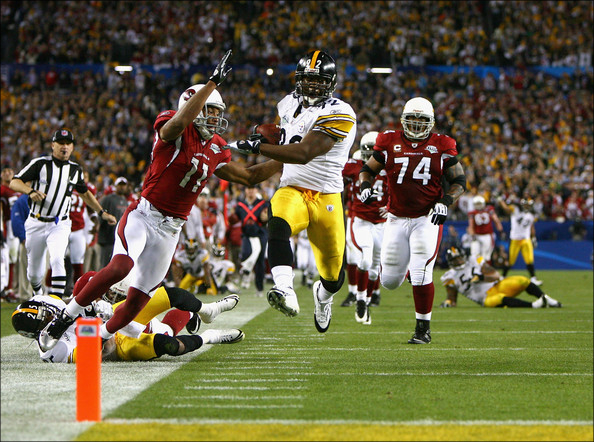 Photo by Al Bello/Getty Images
via zimbio.com
The Cardinals were one yard from paydirt with 18 seconds left in the first half. They had no timeouts but it was first down. They could've taken a couple shots in the end zone. However, they only got one play because Harrison stepped in front of a Warner pass and returned it 100 yards for a touchdown. Until this play, Warner was 15 for 16 with five touchdowns in the red zone for the 2009 playoffs.
If you look at the play again, you'll see that Pittsburgh faked an all-out blitz. They brought seven in the box, but James Harrison dropped back in coverage. It's interesting to note that Harrison told the press beforehand the game plan was keeping him in coverage instead of rushing the passer. He said he would rather be blitzing the quarterback.
The play had many close calls. Harrison nearly lost his balance a couple of times and he almost stepped out of bounds.
It's amazing that this is not even a top three reason for making Super Bowl XLIII an instant classic. Harrison's interception was overshadowed by the wild second half.
3. Fitzgerald's Insane Second Half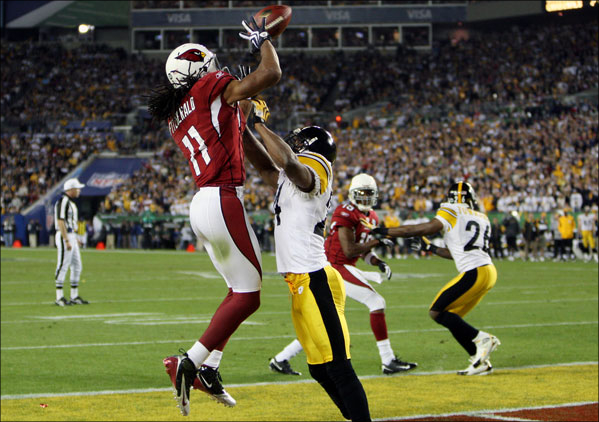 Photo by Ben Liebenberg/NFL.com
via nfl.com
Fitzgerald proved that you can't keep a good man down. His only reception in the first half was in the two minute warning. But in the second half, he exploded with 6 receptions, 112 yards, and 2 touchdowns.
His touchdowns were particularly impressive. In the first one, he beat Pro Bowl alternate cornerback Ike Taylor on a fade route. This catch was similar to David Tyree's helmet catch in last year's Super Bowl. Fitzgerald reached up high to grab the ball close to his helmet. Then, he had to fight Taylor, who tried hard to dislodge the ball.
The second touchdown showed us that Fitzgerald is not just a jump ball specialist. He fought a jam by Taylor and ran a quick slant. Warner got him the ball for an eight yard gain and he turned on his afterburners for a 64 yard touchdown. Pittsburgh was playing cover 2 but with his speed, he was able to split the safeties.
With this game, Larry Fitzgerald owns some records that will be very hard to break. He has the most catches (30), yards (546), and touchdowns (7) for any NFL postseason.
2. The Greatest Super Bowl Comeback Ever... Almost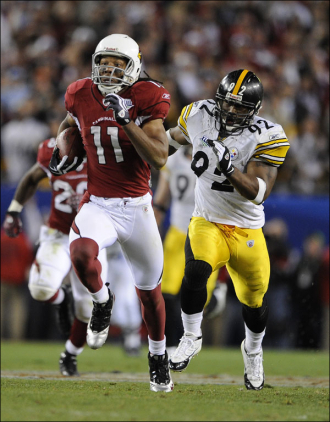 Photo by G. Newman Lowrance/NFL.com
via nfl.com
The greatest comeback was in Super Bowl XXII. The Washington Redskins trailed the Denver Broncos 10-0 at the start of the second quarter, but scored 35 unanswered points to put the game away.
The Cardinals almost beat that record. They were down 13 points but they scored 16 unanswered points in the fourth quarter. This was pretty impressive against the number one defense.
It started with the jump ball touchdown by Fitzgerald. Then, both teams had to punt. A great punt and a Pittsburgh penalty pushed the Steelers back on their own one yard line. This set up the safety. Two possessions later, Fitzgerald scored again.
In a span of five minutes, the Cardinals shocked the Steelers and the world with 16 points. They were two minutes from being the world champions but...
1. Big Ben Does His Best Joe Montana Imitation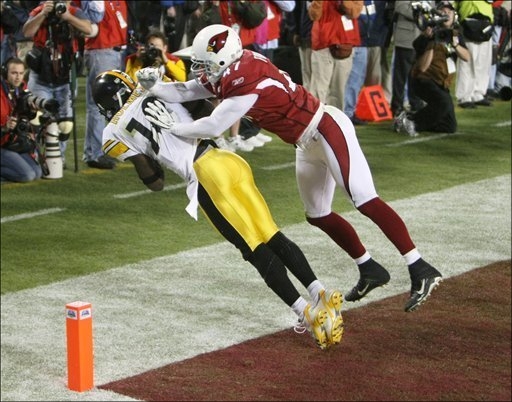 Photo by James Borchuck/AP Photo/St. Petersburg Times
via charlotteobserver.com
...you can't have an instant classic Super Bowl game without a late game winning drive. (Okay, there's the Titans vs Rams game but that's the exception.)
The drive started on the Pittburgh 22 yard line with 2:30 to go. The first play was a holding penalty so Roethlisberger had his back against the wall with 1st and 20 on the Pittsburgh 12 yard line. He scrambled and found Santonio Holmes for a 14 yard gain. After an incompletion, he avoided the rush again and completed a pass to Holmes for 13 yards. To his credit, Holmes made a tough catch. He had to jump up high to make the grab.
After two short completions, Roethlisberger found Holmes again. The nearest Cardinals defender fell down and Holmes turned an eight yard pass into 40 yards. Two plays later, Roethlisberger threw to Holmes in the back right corner of the end zone for the game winner.
With this drive, Ben reminded us of the old Montana, Elway, and Brady fourth quarter comebacks. Also, he solidified himself as a clutch performer. In his five year career, he's already had 19 fourth-quarter comebacks that either won or tied the game for his team.